Merging Creativity and Entrepreneurship
Ashish Lal, an engineer from India's premier institute IIT Delhi, is the Founder Director of RedAsh Films, a Mumbai based 15-year-old reputed film production company which has produced Corporate Films for top global clients and Entertainment Films for millions of people. Ashish is also the Founder of RedAsh TV which is into producing life transforming Knowledge Films.
Nuanced and Engaging Writing & Direction
As a Writer, Ashish has been professionally writing fiction and non-fiction scripts in both Hindi and English language since 2008. He has over 11,000 hours of professional writing experience. As a Director, Ashish has directed hundreds of films in different genres and categories – feature films, web series, short films, ad films, music videos, corporate films etc. He has tested the waters of natural and creative storytelling for almost one and half decades now.


Integrity in Letting Emotions Flow
Ashish is a natural and organic actor who believes that acting is not about showing emotions, but about feeling them and letting the emotions get portrayed on its own. If an actor shows more than what he feels, that's a lack of integrity in the most honest art called acting. For over a decade, Ashish has been doing leading and key roles in Hindi and English projects – feature films, short films, TV/web series, TV/digital ads, music videos, corporate films etc.
Seeking answers to deep Physical, Mental & Spiritual questions
Ashish firmly believes in holistic wellbeing. He has healed his severe, chronic and so-called incurable asthma using 3 time tested holistic therapies and helped thousands others do the same. Battling with mental health and depression issues for 3 long years, gradually but strongly he came out using holistic physiological, psychological and spiritual methods in such a way that even the worst situation can't take his inner joy and peace away ever again. Since 2000, Ashish has regularly been doing Yoga asanas for physical fitness, Yoga's Pranayamas for mental health and Meditation for spiritual growth. Since 2009, Ashish has practised scientific nutrition and also been regularly doing Gym weight training and Freehand bodyweight exercises. Ashish is a daily book reader. He has read hundreds of books on self-help, psychology and spirituality. His all time favourite books are "Letting-go: the pathway of Surrender" by Dr. David R. Hawkins and "I Am That" by Nisargadatta Maharaj.

Here are a few films that give a glimpse of Ashish as an Entrepreneur, Filmmaker, Actor and Seeker.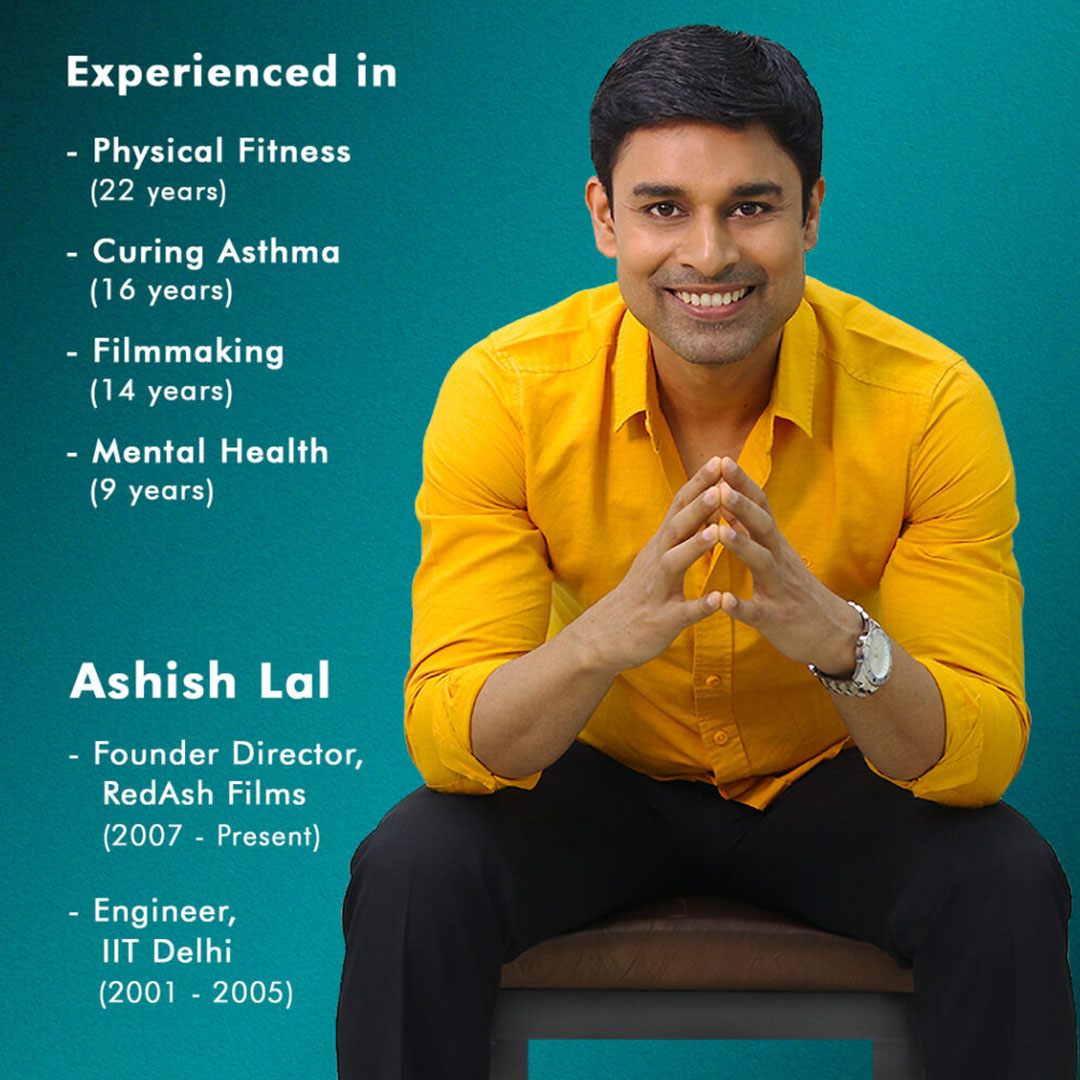 Some of the below mentioned ones are professional skills and some passionate hobbies.
Science of Wholesome Nutrition
Weight Training & Freehand Exercises
Teaching Physics/Maths for IIT-JEE
Playing Percussion Instruments
Connect with Ashish Lal on Social Media